Tennessee Williams: The Two-Character Play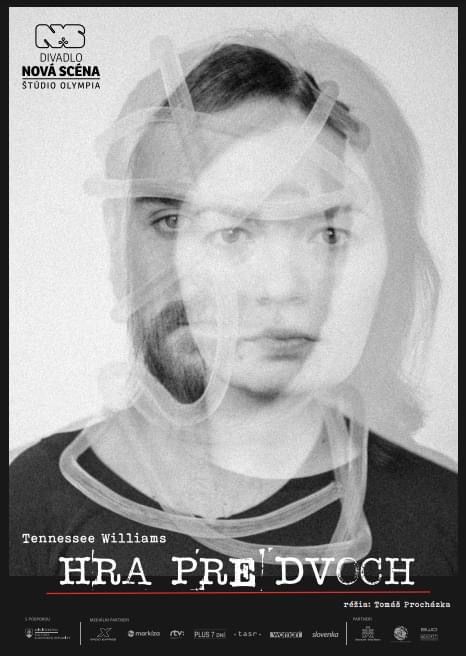 "The worst thing that has disappeared from our life is the awareness of what is happening in it." The Nová Scéna Theater presents the Czech and Slovak premiere of the text of the great American realist playwright Tennessee Williams.
A gripping tale of tragedy and comedy, The Two-Character Play (also known as One Cry) delves into the world of two actors, Claire and Felice, who find themselves stranded by their acting company at the end of their tour. The only performance they can deliver is a psychological thriller of two siblings united by a dark past. But as the lines between reality and theater become blurred, questions arise about who is hiding the truth and who is in control. The play explores the fragility of relationships built on dependence and the descent into madness as the characters attempt to escape themselves.
Written by the legendary playwright Tennessee Williams, the play showcases his mastery of character development and his insightful portrayal of women. The Two-Character Play has been described by Williams as his most beautiful text since his iconic play A Streetcar Named Desire and is considered one of his most experimental works, placing him among the ranks of esteemed playwrights such as Ionesco, Pirandello and Samuel Beckett.
The production will be directed by Tomáš Procházka, a renowned figure in Czech and Slovak theater, who returns to Slovakia with his unmistakable style. This thought-provoking play promises to be a theatrical experience unlike any other.
Cast: Lucas Stefan, Zuzana Haverda
Translation: Zuzana Hekel
Concept, scene & directed by: Tomáš Procházka
Dramaturgy: Andrea Bu
Music: Nikolaj Nikitin
Costumes: Marina Žiaková
Flyer photo: Robert Tappert
Premiere: 16.2.2023 – 7:30PM , Nová scéna Theater – Studio Olympia, Živnostenská St. 1, Bratislava
Other dates:
Source: www.novascena.sk